People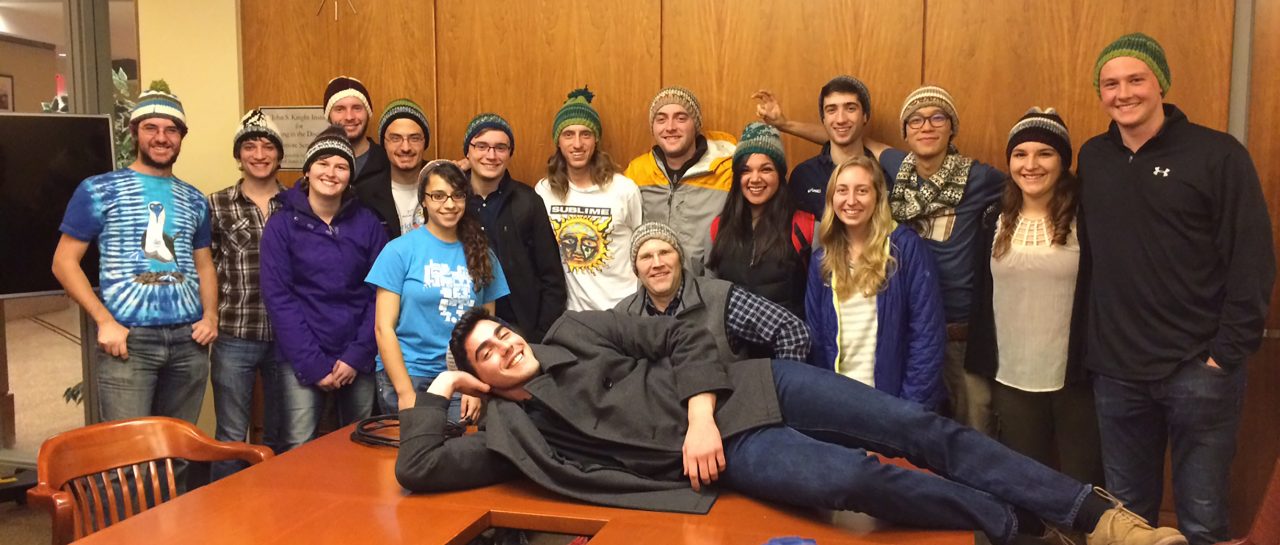 Lab group 2015-2016 featuring snazzy new hats.
David Bonter

As the Arthur A. Allen Director of Citizen Science at the Lab of Ornithology and a Senior Lecturer at Cornell University, David is in the fortunate position of engaging the public in research focused on birds and encouraging the development and scientific explorations of a growing cohort of bright undergraduate students.

Alex Levitskiy

Cornell Class of 2020

Alex is a bird-loving pre-vet who is also interested in conservation and public health. He is combining these interests through his senior thesis research, which investigates the fitness implications of disease state and co-infection in nesting Common Eider on Appledore Island, Maine.

Rachael Mady

MS Student

Rachael is the lab's first Masters student and is excited to be in a lab with so many bright and inspiring undergraduates! She will be studying the effects of supplemental bird feeding for her thesis as well as working as a research assistant for an NSF-funded project to create a platform for co-created citizen science centered around the Lab of Ornithology's Bird Cams.

Chris Sayers

Cornell Class of 2020

Chris is an avid birder and photographer. He has just traveled to Kenya on an Ivy Expedition collecting wildlife media for Macaulay Library. For his senior thesis, he will be frolicking in the salt marshes of the Northeast trying to quantify regional mercury contamination in tidal marsh sparrows.

Sarah Toner

Cornell Class of 2019

Sarah is currently working on four different research projects, ranging from analyzing patterns of vagrancy in Franklin's Gulls to studying antipredatory behaviors in Australian Red-backed Fairywrens. For her honors thesis, Sarah is working in northern Michigan, studying how urban areas affect species whose ranges have shifted northwards over the past few decades.

Anita Tendler

Cornell Class of 2019

Anita has been a part of numerous projects at the lab, ranging from field work for NestWatch to interning for BirdSleuth. She is currently working on her senior thesis, quantifying neonicotinoid concentrations in free-ranging birds. She is also interning for the Environmental Defense Fund this summer in Austin pursuing her passion for climate change and environmental policy!

James Purcell

Cornell Class of 2018

A long-time lab member, James has studied birds in Australia and South America during his time at Cornell. He's currently working on his senior thesis–focused on yellow warblers and their nests–under the direction of Vanya Rowher at the Cornell University Museum of Vertebrates.

Facundo Fernandez-Duque

Cornell Class of 2018

Facundo has already studied gulls and swallows on Appledore Island, Maine and fairy-wrens in Australia. He's a skilled bird bander always looking for an excuse to study birds.

Sarah Dzielski

Cornell Class of 2017

Sarah has traveled the globe studying birds in Panama, Guatemala, the Dominican Republic and Australia and already has two scientific publications. For her senior thesis, Sarah worked with Vanya Rowher and Lilly Twinning to study mercury contamination in historic and contemporary bird specimens. She starts her PhD program at SUNY Environmental Science and Forestry in Fall 2018.

Odile Maurelli

Cornell Class of 2017

Odile's thesis is exploring potential reasons for differential survival between male and female herring gulls. Specifically, she's focusing on spatial segregation during the non-breeding season. This work has developed Odile's skills for DNA extraction and she's currently the reigning lab champion at pipetting.

Max Witynski

Cornell Class of 2017

Max is an experienced birder and bander who has studied Yellow Warblers in Wisconsin and Maine as well as lyrebirds in Australia. His senior thesis project uses light-level geolocators to study migratory connectivity.

Connor Rosenblatt

Cornell Class of 2017

When not running really long distances… Connor's research is focused on how birds of open fields (Snow Buntings, Horned Larks) utilize habitat during the non-breeding season. He's conducting local research as well as using eBird data.

Liam Berigan

Cornell Class of 2017

Liam is currently examining factors correlated with House Sparrow declines across North America using data from Project FeederWatch. He's also working on a GIS project examining nest site selection in Common Eiders on Appledore Island, Maine.

Emily Shertzer

Cornell Class of 2016

Emily studied the relationship between weather and foraging behavior in songbirds in winter. Her work in the Ithaca-based RFID system led to an impressive senior thesis that is currently being edited for publication.

Natasha Bartolotta

Cornell Class of 2016

Natasha's interest in animal behavior led her to study how gulls react to novel stimuli. She's now off to Uganda to study chimpanzees before searching for a graduate program in primatology.

Taylor Heaton Crisologo

Cornell Class of 2016

Taylor studied parental nest defense behavior and the factors influencing nesting success in Herring Gulls at Shoals Marine Lab. She also worked on Superb Lyrebird displays as well as fairy-wrens in Australia. Taylor's senior thesis was published in Ethology.

Hunter Reed

Cornell Class of 2016

Hunter's senior thesis focused on the influence of bird feeders on the distribution of small mammals. He's currently writing-up this work for publication before he enters Vet School at Cornell.

Michelle Moglia

Cornell Class of 2014

Michelle studied the array of coloration in bird eggs, using the gulls of Appledore Island as a model system. She has two scientific publications (so far!) from her undergraduate career. Spending two summers in the gull colony prepared her well for life on Wall Street, where she is now a financial analyst.

Shailee Shah

Cornell Class of 2014

Shailee's novel research demonstrated how gulls encode information in their alarm calls–work published in Animal Behaviour. Shailee is now a Ph.D. student at Columbia University conducting research on Superb Starlings in Kenya.

Luke DeFisher

Cornell Class of 2013

Pulled from the kitchen at Shoals Marine Lab, Luke proved to be a keen biologists and inspirational member of the lab. Luke's thesis work on the effects of invasive ants on gull reproduction was one of two publications from his undergraduate career. Luke is now an expert cider maker at Rootstock Ciderworks.

Sarah MacLean

Cornell Class of 2013

A founding member of the lab group, Sarah won the SUNY Chancellor's Prize and numerous other awards during her illustrious undergraduate career. She has 3 scientific publications from her undergraduate work and is currently pursuing a Ph.D. at UC Berkeley. Check out her website.

Matt Savoca

Cornell Class of 2010

Matt's research on gull nest site selection and success led to his first publication and sparked an interest in seabird ecology. He's now working on a Ph.D. at UC Davis studying why seabirds ingest plastic, a major conservation issue. Learn more about Matt's work.