---
Dissecting an owl pellet is a great way to learn about the different ecological roles organisms play in their environment. Our kit, Dissecting the Food Web: An Owl Pellet Investigation, challenges students to think critically about these ecological roles and to make evidence-based predictions of their own. Through hands-on activities, project-based inquiry, and informative science articles, students build scientific and environmental literacy while having fun! Go through each lesson and extension activity with the webinar under the Quick Facts section.
With this kit students will…
Discover what birds of prey eat
Reconstruct a skeleton
Analyze data and solve real-life mathematical problems
Model the interconnectedness of species
Learn how energy flows through an ecosystem
Be challenged with reflection and extension activities in each lesson
Materials: Your kit includes…
Pellets and tools for 15 individuals or teams
Extra pellet for demonstration
Detailed Teacher's Guide developed by The Cornell Lab of Ornithology Staff with three lessons and accompanying student handouts
Keys, charts, and diagrams for all activities
Background articles, colorful cards, and posters
Access to web resources (videos, audio, additional links, and extensions)
Teacher's Guide: Lesson Plans
The first lesson of Dissecting the Food Web: An Owl Pellet Investigation, "The Food Web," walks students through the basics of ecology concepts such as trophic levels, energy flows, and what happens if there is a disruption in a food web.
Next, in "Digging into Owl Pellets" students dissect a real owl pellet and practice observing, sorting, and recording data using diagrams and a dichotomous key.
In the last lesson, "Predicting Prey," students apply ecological knowledge about different owl species to predict pellet contents and characteristics.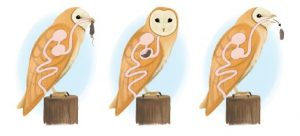 Kit Quick Facts:
This kit was designed for students in 3rd-8th grade, although it is adaptable for high school classrooms with these web extensions.
The curriculum also fulfills several Next Generation Science Standards (Grade 3-8) and State Standards (Grade 3-7) in ELA and math.
Additional Purchasing Options
Curriculum only: Already have owl pellets and the tools needed for dissecting them? You can now purchase our Dissecting the Food Web: An Owl Pellet Investigation curriculum separately. This kit contains the teacher's guide, plus food web species cards, food web poster, and trophic level signs.