Advice for Prospective Undergraduates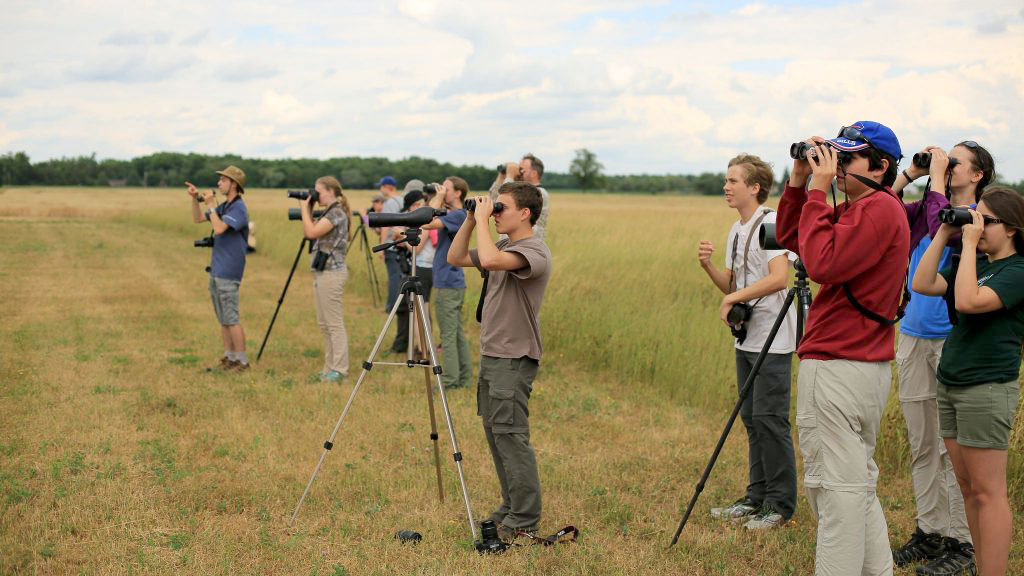 Cornell offers unrivaled opportunities for undergraduates interested in birds. As the home of the Cornell Lab of Ornithology, no other institution of higher learning supports such a rich community of professional ornithologists and recreational birders. Whether your goal is to build a great local year-list, to engage in cutting-edge avian research, or simply to hang out with birder friends, Cornell is a fantastic place to integrate your ornithological passion into your college experience.
Cornell has been connecting students and birds for over a century. Hundreds of Cornell graduates have gone on to careers in avian research, and many more have incorporated their appreciation of birds into their professional and personal lives. The ever-growing flock of Cornell alumni inspired by birds includes renowned ornithological scientists, teachers at all academic levels, founders and directors of major conservation organizations, CEOs and other influential business leaders who have pioneered corporate environmental responsibility initiatives, highly ranked world birding listers, government and private land-managers engaged in critical on-the-ground bird conservation, and many, many more individuals who have allowed birds to enrich their lives.
Cornell's gorgeous setting is one of the many reasons that it has long attracted students with a love for the natural world. Spectacular natural areas snake through Cornell's campus and connect it with the largely rural landscape of New York's Finger Lakes region. Fall and spring migration in Ithaca are sensational: the combination of local terrestrial and freshwater habitats attracts a notably high diversity of migrants. Summer boasts the height of the breeding season. And while winter may support a lower density of birds, it also harbors the possibility of rare or irruptive visitors from the north.
Ithaca is also special for bird lovers because it is perhaps the only place in the world where nearly everybody in town knows what the word "ornithology" means. Surveys have indicated that the Ithaca area may have the highest per-capita density of birders anywhere—at any time of year, it is normal to run into someone toting a pair of binoculars. As you might expect, the resident and undergraduate birding communities are large, friendly, and welcoming. There is a niche here for everyone, from beginner birders to hard-core twitchers.
We hope that both prospective and current students—graduate and undergraduate alike—will use these pages to learn more about the rich and diverse array of bird-related courses, resources, opportunities, and community available to Cornell students. Rest assured: No matter your level or type of interest, there's a place for you here.
Understanding the Admissions Process
If you are considering Cornell as a prospective undergraduate, we encourage you to browse Cornell's extensive admissions website for details on how to apply, in addition to other important information about the University.
Cornell University consists of 14 colleges and schools. One of the first decisions you will face in the admissions process is choosing your college. You can take elective courses related to ornithology no matter which college or major you choose. But if ornithology will be a strong academic theme throughout your college career, you'll likely be most at home in either the College of Agriculture and Life Sciences or the College of Arts and Sciences.
Eventually you will also have to decide on a major and area of study. There is no Ornithology major at Cornell or any other modern university; instead, students study birds as part of broader majors in the sciences and related fields. The three most popular majors for students interested in avian biology and conservation are:
Biology. This major is offered in both the College of Agriculture and Life Sciences and the College of Arts and Sciences. Extensive information on the Biology major is available from the Office of Undergraduate Biology. Within the Biology major, you can either pursue General Biology or choose from over a dozen concentrations, including Animal Physiology, Ecology and Evolutionary Biology, and Neurobiology and Behavior.
Environmental and Sustainability Sciences. This major is offered in both the College of Agriculture and Life Sciences and the College of Arts and Sciences. Students majoring in ESS can choose among a variety of concentrations, each with a different mix of science, humanities, and social science opportunities. There is even a 'make your own concentration' that a few ESS students have used to create a customized curriculum focused on topics like avian biology and conservation.
Animal Science. This major is offered in only in the College of Agriculture and Life Sciences and it is particularly popular among students who are thinking about careers in veterinary medicine, or in agricultural production or related businesses. Animal Science is the home of the Cornell Raptor Program, which welcomes student involvement in using captive raptors for education and research.
Although these three are perhaps the most common majors for Cornell's seriously bird-oriented students, birds enrich many aspects of human experience and students of all majors can (and do!) become highly engaged at the Lab of Ornithology!