Kevin J. McGowan
Cornell Laboratory of Ornithology
159 Sapsucker Woods Rd.
Ithaca, NY 14850
Jump to Bird Photos page.
Jump to Crow Research page.
Jump to Crow FAQ page.
Born in Springfield, Ohio, Kevin has had a lifelong interest in birds and mammals. He received a B.S. in Zoology from the Ohio
State University in 1977, and an M.S. in Zoology from Ohio State in 1980 for a thesis on small mammals and their use of arthropods on reclaimed strip-mines. He then went to the University of South Florida where he received a Ph.D. in Biology in 1987 for work on the social development of young Florida Scrub-Jays (Aphelocoma coerulescens). While in Florida, he taught biology at several community colleges, did some freelance biological consulting, and worked as a non-game biologist for the Florida Game and Fresh Water Fish Commission. He went to work at Cornell University in 1988 as a Curator/Research Associate in the Section of Ecology & Systematics (now the Department of Ecology & Evolutionary Biology). He was promoted to Senior Research Associate in 1994. He was the principal caretaker of the bird and mammal collections, and conducted his own research. In addition, he taught classes at Cornell in specimen preparation, field collecting methods, the relationships of birds, and Neotropical canopy biology and canopy access. In July 2001, Kevin moved to the Education department at the Cornell Laboratory of Ornithology, developing an informative website All About Birds and writing the Bird Guide section. Beginning in January 2005 he became the co-editor of the publication of the second New York State Breeding Bird Atlas project, offically a member of the Department of Natural Resources at Cornell University, but based at the Lab of Ornithology. The resulting book, The Second Atlas of Breeding Birds in New York State, was published in 2008 by the Cornell University Press. Kevin currently works in the Education department of the Lab again. He is the instructor for the long-running Home Study Course in Bird Biology and the online course Investigating Behavior: Courtship and Rivalry in Birds. His research on crows continues, in collaboration with Dr. Anne B. Clark of Binghamton University and her students.
Kevin's main research concerns behavioral ecology of birds, especially social behavior. He has been studying reproductive and social behavior of American Crows (Corvus brachyrhynchos)
and Fish Crows (Corvus ossifragus) in the Ithaca area since 1988. The American Crow is a cooperative breeder, with young crows staying at home with their parents for several years and helping them raise siblings. As a broadly-trained ornithologist, Kevin also is
interested in a wide range of topics, including systematics, evolution, biogeography, natural history, and ecology. His interest in tropical mammals and his tree climbing skills, honed during his crow research, have taken him to Panama and Costa Rica to participate in research on canopy mammals. In addition, he has taught about tropical birds in Costa Rica and Peru. Kevin is an Elected Member of the American Ornithologists' Union, former Secretary of the Ornithological Societies of North America (OSNA), and is the former editor of the Ornithological Newsletter a bi-monthly publication of OSNA.
Blurring the line between his professional and private life, Kevin has been an avocational birder since childhood. He has traveled throughout North America, as well as to Europe, Central America, South America, and Africa, watching and studying birds. He has led birding field trips for groups of all skill levels. He has been the President of the Cayuga Bird Club, the President and webmaster for the New York State Ornithological Association (formerly the Federation of New York State Bird Clubs), and a member of the New York State Avian Records Committee (NYSARC). For 16 years Kevin was a member of the Cornell Laboratory of Ornithology's team (The Sapsuckers) competing in the World Series of Birding in New Jersey each May. (The Sapsuckers, sponsored by Swarovski Optik, tied for first place in 2001, and won in 2002. For more on this story, go here.)
Published Abstracts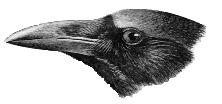 More about the crow study and crows in general

Articles about Kevin's and Anne's crow research --

Spring 1998 issue of The Living Bird

July 2009 National Public Radio interview with Kevin, and a crow-matching game at npr.org/crows

August 2011 feature article about crows as part of an emerging urban ecosystem in Science News, plus an additional online story about a day out with the crow project
Bad Photos of Good Birds - A few photographs of unusual local birds. Using an Olympus D-450 digital camera, and my Swarovski HD-80 spotting scope, my son Jay and I began taking numerous pictures of birds ("digiscoping") in early 2000. I include here many of our photographs from the early digiscoping years. Along with some of these images are discussions of identification characters for the trickier species, illustrated using my photographs of wild birds and specimens from the Cornell University Museum of Vertebrates.
---
Last updated 23-Sep-2011