Ruby's Birds by Mya Thompson, illustrated by Claudia Dávila
The Ruby's Birds – Teacher's Guide features activities that target national science, math, writing and art education standards for grades K-3. This website provides background information and digital content to complement the printable guide. Purchase this book or watch a reading by author Mya Thompson.
Activity 6: Migration Map
Print out copies of the Migration Map handout and have kids use different colors to fill in the regions where their focus bird spends its summers and winters. Then, mark the full migration route, making sure to note any stopover points.
Activity 8: Whose Wings are These?
Birds typically have one of four common wing shapes: passive soaring, active soaring, elliptical, and high-speed.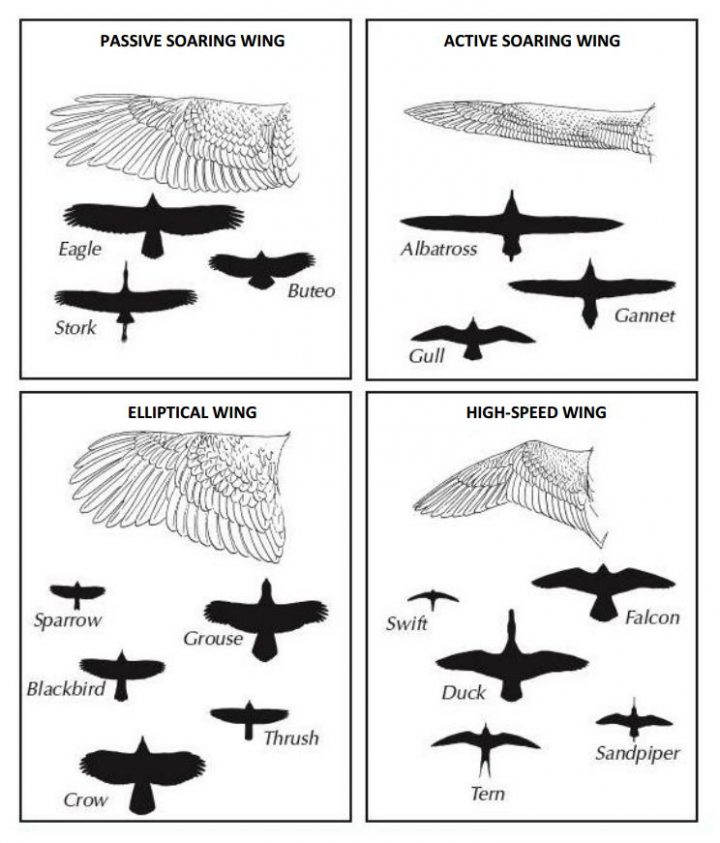 Explore our Bird Wing Types handout to see examples of birds that have each wing type and learn more about what each of the shapes is most useful for.
After you have reviewed the different kinds of wing shapes, have kids make their own "bird" paper airplanes with help from the resources below. Encourage kids to try to replicate different bird wing types!
Fold'n'fly paper airplane design database
How to make a swallow paper airplane
Use your imagination! Many kids have designed their own beautiful airplanes that were inspired by birds.
Standards
Science Connections (SCI; Next Generation Science Standards)
K: K-L-S1-1, K-ESS3-3
1: 1-L-S1-1, 1- L-S1-2, K-2-ETS1-2
2: 2-LS4-1, 2-PS1-1, K-2-ETS1-2
3: 3-LS2-1, 3-LS4-3, 3-LS4-4, 3-LS4-2
Art Connection (ART; National Core Art Standards)
K: Cr1.1.Ka, Cr1.2.Ka, Cr2.1.Ka, Cr2.2.Ka, Cr2.3.Ka, Re.7.1.Ka, Re.7.2.Ka, Re8.1.Ka, Cn10.1.Ka
1: Cr1.1.1a, Cr1.2.1a, Cr2.1.1a, Cr2.2.1a, Pr4.1.1a, Re.7.2.1a
2: 1.2a, Cr1.2.2a, Cr2.1.2a, Cr2.2.2a, Cr2.3.2a, Cr3.1.2a
3: 1.3a, Cr1.2.3a, Cr2.1.3a, Cr2.2.3a, Cr2.3.3a, Cr3.1.3a, Re.7.2.3a, Cn10.1.3a
English Language Arts (ELA; Common Core State Standards)
Reading: Informational Text
K: RI.K.1, RI.K.2, RI.K.3, RI.K.4, RI.K.7, RI.K.8, RI.K.10
1: RI.1.1, RI.1.2, RI.1.3, RI.1.6, RI.1.7, RI.1.10
2: RI.2.1, RI.2.3, RI.2.4, RI.2.6, RI.2.8
3: RI.3.1, RI.3.2, R1.3.4, RI.3.7, RI.3.8, RI.3.9
Reading: Literature
K: RL.K.1, RL.K.2, RL.K.3, RL.K.4, RL.K.6, RL.K.7, RL.K.10
1: RL.1.1, RL.1.2, RL..1.3, RL1.4, RL.1.6, RL1.7, RL1.9, RL.1.10
2: RL.2.1, RL.2.3, RL.2.5, RL.2.6, RL.2.7
3: RL.3.1, RL.3.3, RL.3.4, RL.3.6, RL.3.7
Speaking and Listening
K: SL.K.1, SL.K.2, SL.K.3, SL.K.4, SL.K.5, SL.K.6
1: SL.1.1, SL.1.2, SL.1.3, SL.1.4, SL.1.5, SL.1.6
2: SL.2.1, SL.2.2, SL.2.3, SL.2.4, SL.2.6
3: SL.3.1, SL.3.2, SL.3.3, SL.3.4, SL.3.6
Writing
K: W.K.2, W.K.3, W.K.8
1: W.1.2, W.1.3, W.1.5, W.1.7, W.1.8
2: W.2.1, W.2.2, W.2.3, W.2.5, W.2.6, W.2.8
3: W.3.1, W.3.2, W.3.3, W.3.4, W.3.5, W.3.7
Mathematics (MATH; Common Core State Standards)
K: K.MDA.1, K.MDA.2, K.MDA.3
1: 1.MDA.2, 1.MDC.4
2: 2.MDA.1, 2.MDA.2, 2.MDA.3, 2.GA.2
3: 3.MDC.5, 3.MDC.7